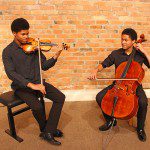 y-notts has been a wonderful source of financial help for Braimah and Sheku
Kanneh-Mason, who are passionate about fulfilling their ambitions to become
professional musicians. y-notts made it possible for them to travel to much
needed instrumental lessons and music courses that have been of real benefit
to them, and which would have been impossible without the help of this
generous support. We are grateful, not just for the financial assistance,
but for the encouragement that this support has given to Braimah and Sheku.